Quest Annual Conference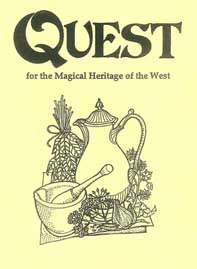 Held in March every year, Quest's Conference is the world's oldest, continuously-run, open meeting on the Western Mysteries, magic and witchcraft.
Organised by Marian Green, editor of Quest magazine and the author of over twenty books, it is a very friendly gathering of practitioners, authors and interested newcomers. It is an ideal place to make and renew friendships with like-minded people.
The 2017 meeting will be held at the Southville Centre in Bristol (UK) on Saturday 11 March from 1030 - 1700. It will include talks by Professor Ronald Hutton on The Western Magical Tradition, Val Thomas on folk law, local history and the magical landscape, and Marian Green on the history of Quest and other magical developments over the last 50 years.
The cost of the Conference is £25.00, including lunch: cheques payable to QUEST.
To book a place, or for more information, please write to Marian Green at
BCM-SCL Quest,London WC1N 3XX, UK (sae please; Marian does not use email),
phone 0117-9634247 (before 8.00 pm, please) or see the announcements in Quest.
PLACES MUST BE PRE-BOOKED BY 20 FEBRUARY
Further information:
local transport, on-street parking and B&B accomodation all nearby
if you wish to run a craft stall at the event please reserve well in advance
you are invited to join us at a local pub for supper afterwards