Quest Annual Conference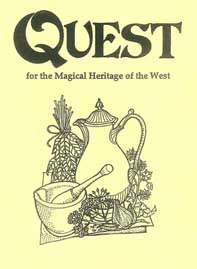 Held in March every year, Quest's Conference is the world's oldest, continuously-run, open meeting on the Western Mysteries, magic and witchcraft.
Organised by Marian Green, editor of Quest magazine and the author of over twenty books, it is a very friendly gathering of practitioners, authors and interested newcomers. It is an ideal place to make and renew friendships with like-minded people.
The 2016 meeting was held at the Southville Centre in Bristol (UK), on Saturday 12 March from 1030 - 1730. It included talks by Pete Caroll on 'The History and Development of Chaos Magic', Hella Gadellaa from Holland on 'Magical healing', and Jo Hickey-Hall, a research student, on her work on faeries.
The cost of the Conference is £25.00, including lunch: cheques payable to QUEST.
To book a place, or for more information, please write to Marian Green at
BCM-SCL Quest,London WC1N 3XX, UK (sae please; Marian does not use email)
or see the announcements in Quest.
Further information:
local transport, on-street parking and B&B accomodation all nearby
if you wish to run a craft stall at the event please reserve well in advance
you are invited to join us at a local pub for supper afterwards