Quest Workshops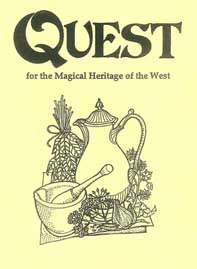 The Invisible College is running a weekend workshop, from Friday evening 4th to Sunday afternoon 6th April 2014, at the Ammerdown Conference Centre near Bath.
"The Arts of the Village Wise-Woman" will be led by Marian Green and Val Thomas, a qualified medicinal herbalist. It will share practical exercises in the old arts and crafts that are not explained in books or on the internet.
The course fee is £250, inclusive of tuition, full board (meat and vegetarian) and accomodation in single or twin en suite rooms.
In October 2014, there will be a further workshop at Ammerdown will on "History, Myth and Magic within the Western Mystery Tradition". Further details to follow here and in Quest.
For an application form, and for more information, write to:
Quest Courses, 80 Bishopsworth Road, Bristol BS13 7JS, UK.