Quest Workshops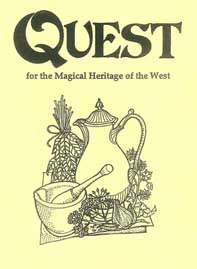 The Invisible College runs occasional weekend and day workshops taught by Marian Green.
Day Workshops
For more information on these, and to book, email Jo Hickey-Hall on scarlettofthefae@gmail.com .
June 10th 2017
Tree walk in Bristol (Brandon Hill).
July 8th 2017
Plants and Natural Magic, at the Southville Centre, Bristol.
Weekend Residential Workshops
These run from Friday evening to Sunday afternoon at the Ammerdown
Conference Centre near Bath.
To book a place, send a cheque for £50 payable to Quest, plus an sae, to:
Quest Courses, 80 Bishopsworth Road, Bristol BS13 7JS, UK. Alternatively,
call 0117 963 4247, but before 8.00 pm please.
October 6th - 8th 2017
Coming Forth by Day: Explaining Egyptian Magic.
April 6th - 8th 2018
Topic to be announced
November 23rd - 25th 2018
Topic to be announced
The course fee for each residential weekend is currently £250: inclusive of tuition,
full board (meat or vegetarian) and accomodation in single or twin en suite rooms.
Further information about the residential weekends
the workshops generally include talks, spiritual exercises and explorations in the
surrounding large estate (please bring sensible shoes)
we usually design and perform a ritual based on traditional arts; if you have a
ritual robe please bring one
the weekends are suitable for students of all levels of experience
the venue is in the country and has gardens, woods, meadows and rural stillness
places are limited, so please book early