Quest Workshops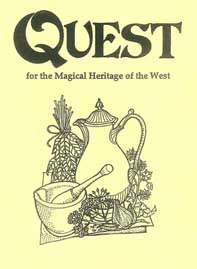 The Invisible College is running a weekend workshop, from Friday evening 10th to Sunday afternoon 12th April 2015, at the Ammerdown Conference Centre near Bath.
The title of the workshop is "Building a House of Wisdom for Sophia: Sophia and the Feminine Mysteries". This will be a practical exploration of Wisdom as a concept, and Sophia as an archetypal Goddess, as well as a consideration of the power of the Divine Feminine. There will be excercises, meditiations and ritual practices suitable for students of all levels of experience.
THERE ARE STILL A FEW PLACES AVAILABLE
ON THIS WORKSHOP.
The course fee is £250, inclusive of tuition, full board
(meat ot vegetarian) and accomodation in single or
twin en suite rooms.
There will also be a workshop at Ammerdown from
6 - 8 November 2015: topic to be announced.
For an application form, and for more information,
write to: Quest Courses, 80 Bishopsworth Road,
Bristol BS13 7JS, UK.